Ajman Police Certified CCTV Solution Provider and Maintenance Company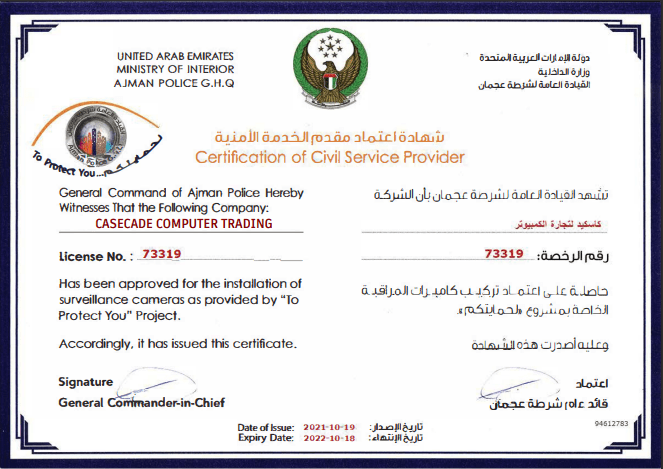 Ajman Police ensures the safety of every person located in Ajman, United Arab Emirates. But, it needs public support and cooperation. The Police Department of Ajman instructs each registered infrastructure and institution to be provided with CCTV installed security and surveillance system, which is associated with Ajman Police certified CCTV Solution Provider Companies to ensure people safety.
Digitally advanced security and control systems play a vital role in preventing the rise in crime rates and holding the persons involved in criminal activities.
CascadeWorld, one of the top global CCTV Installation and Maintenance Company approved by the Ajman, Sharjah, and Dubai Police, has been successfully running its top order in the list of service providers certified by Ajman Police. The special investigation department of Ajman Police arranges all the rules and regulations of CCTV installation and maintenance companies.
Ajman Police mandates experienced technicians to complete a course, which includes all terms and conditions related to the CCTV Security and Surveillance Service Industry. Ajman Police gives technicians a specific ID (Identification) Card, after the course completion.
Ajman Police constricted all CCTV installation and maintenance services to approved companies in a strict manner. Companies that finish the terms in security system installation should intimate the Police. A trained person or group in this industry would be searching directly to offer the certificate.
CCTV Installation and Maintenance companies must submit the outline for the points of CCTV camera installation to the specific department of Ajman Police for approval. Experienced and skilled technicians from CascadeWorld offer all these services to our clients truly without compromise on quality and accuracy.